2020: The lesson of a broken year
At the beginning of 2020, I started drawing flowers, just for fun.  Each time I was finished with one, I was pulled to do another and then another.  As my collection of botanicals grew, so did the list of new challenges that 2020 was dropping in our lap.
When I draw or paint, I think, I consider, I connect dots and let the whisper of the universe teach me what it will.
It wanted to remind me what growth looks like.
A seed must crack open to sprout.
It must hold the tension between pressing up or pushing down, never letting either desire outpace the other.
It must push through the dark, the cold, the wet of soil to put down it's roots.
It must stretch outside of its comfort zone over and over again, exposing itself, embracing the vulnerability that comes with chasing the light.
It must endure winds, rains, hot days and cold days.
It must stand its ground amongst the weeds and pests.
And finally, the bud must burst apart to bloom.
And even after all of that, it is not ironclad or invincible.
It is still a delicate and precious thing.
It will be cut, or trampled, or slowly die with the seasons.
Because flowers are not infinite, only their blueprint for growth is.
They leave behind seeds to begin the process again.
A reminder that growth is not an end result, not a trophy we put on a shelf.
Growth is a process of fully embracing vulnerability over and over again,
it is understanding that it is from the brokenness that we become.
Beginnings: Growing up with flowers
When I was little, my mom made paper flowers.  She created the patterns herself, then she painted 11 x17 sheets of printer paper with a 50/50 wash of acrylic paint and water on both sides. They dried firm but delicate, with a matte like texture that was lovely to run your fingers across.  Then she would fold them into fifths, accordion style and sort them by colors in a box lid that she had covered in fabric and repurposed as a storage tray.
She would trace, cut, glue and curl until what was once a box of plain white paper became a bright bouquet of life-like flowers. She sold wreathes, shadowboxes, basket bouquets and even fridge magnets adorned with her intricate paper flowers.
Eventually, she created a book with all of her patterns and directions.
On Saturday mornings, she taught classes at the craft store.  All the other kids had to stay with Dad, but she let me come with her.  Once I learned how to paint the paper, she let me sell it at the beginning of her classes for 5 for $1. I'd buy Rolos with a bit of my profits and wander the isles of the craft store--
touching the leather, fabric and lace,
pining over marker sets and paints in every color,
trying not to smell the silk flowers that looked so real,
dreaming of all the things I could make someday.
I've been obsessed with flowers, colors and craft stores ever since.
By both nature and nurture, my maker mom sure made a maker out of me.
The dying art of lace making
At some point in the process of drawing each flower, I felt compelled to add a touch of lace to each one. A stacked symbolism of sorts.
Drawing lace is a labor of love, it takes time and patience.
But,
Have you ever seen someone hand make real lace?
It is a dying art form that requires extreme skill, attention to detail and an unmatched level of patience.
There is a board, pins holding everything together and thread, lots of thread.  So many different spools and strands that getting them tangled and giving up seems like a much more likely outcome than actually making lace.
It's growth is very slow and intentional, one perfectly placed thread at a time.
When it's complete, it's incredibly delicate and vulnerable and must be treated with great care.
But its delicate, vulnerable nature does not make us love it less, or desire it less, or treat it as less, it makes us love, desire and value it more!
Cultivating a growth mindset
Our ability to find value in flowers and lace is the universe asking us to seek that same value in our own messy, beautiful, vulnerable process of becoming.
People, like flowers and lace, take time, patience, intention and unrivaled vulnerability to grow.
My affirmation coloring journal helps us explore the symbolism of each flower and how embodying that trait can help us embrace our own precious and delicate nature while cultivating a growth mindset.
This is my garden, may you grow with it.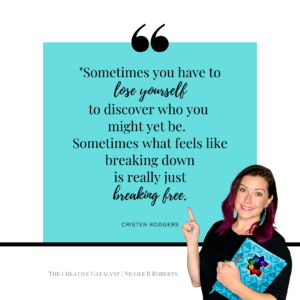 Flower: The Lotus
Symbolism:  self-regeneration, rebirth & enlightenment
Affirmation:  I am enlightened
They tried to bury us, not knowing we were seeds.